What is design and marketing finance?
Whether you're a design, marketing or advertising agency, you'll be no stranger to late payments. There will always be a client who pays late or a client you have to chase each month repeatedly. Cash flow is so crucial for small businesses across many industries, but with an agency, you need the buffer cash can provide you with to keep your agency afloat.
Your creative agency relies on the monthly or quarterly payment of client bills to pay staff wages, rent and other outgoings - and we know how saturated the creative industry is. You're consistently looking for new ways to improve your service - but how can you do that without necessary cash flow?
If you're the director or partner of a digital agency or specialise in any creative area such as website and graphic design, marketing, advertising, interior and fashion design, invoice finance could be the solution to your cash flow problems. It lets you receive up to 95% of the invoice value in as little as 24 hours - putting an end to late-paying clients.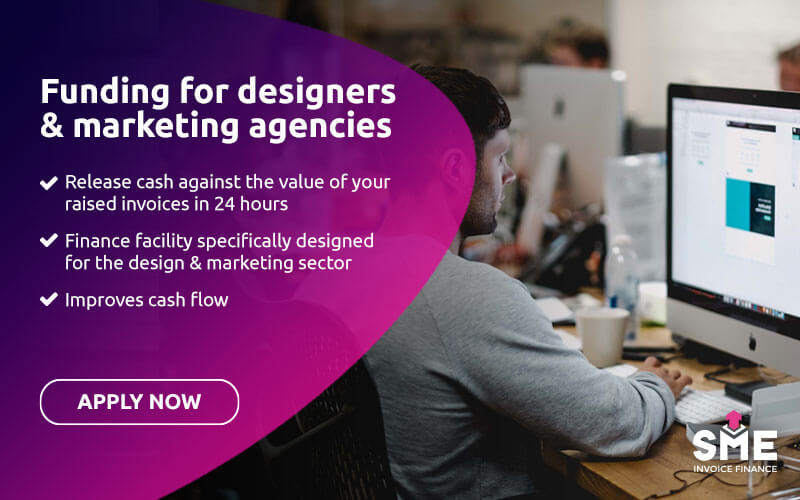 Why your marketing or design agency should consider invoice finance
Invoice finance improves cash flow significantly by releasing cash from your unpaid invoices, so you don't have to wait months for your clients to pay.
No one likes chasing client payments, that's a fact. As a director or partner of an agency, do you really have the spare time to pursue these payments? If you have an accounts team, is there not something better they could focus their attention on?
Although you might have 30-day payment clause in your contract, not all clients mark the date in their diaries, so you inevitably end up chasing payment when you could be focusing on new business strategies.
When you chase for payment, the process can damage a working relationship you've spent so long nurturing into a client account. To keep your relationship intact we offering a product called invoice discounting, this means that the client will never find out you are borrowing against their unpaid invoices - it's merely business as usual. Keeping the process 100% confidential means you remain the single point of contact for your client, keeping business processes simple (for you and your client).
If you wanted to save money by outsourcing your entire credit control process, our invoice factoring product might better suit your marketing business' needs. A dedicated team of professionals will manage collections on your behalf, reducing the risk of bad debt and late payments.
Apply Now
Quick Decision with No Obligation
The Benefits
Cash released in 24 hours after invoices are raised
Receive up to 95% of the invoice amount
Credit control can be fully managed or confidentially kept in-house
Improves cash flow for your business
Negotiate better terms with your suppliers
Bad Debt Protection (BDP) can be added to protect against non-payments
Did you know? The Gross Value Added (GVA) of the UK's creative industry as a whole contributes more than £100 billion and employs over 3.2 million people according to recent stats published by the Creative Industries Council.
How does design & marketing finance work?
Invoice finance releases cash from your unpaid invoices so you can bridge the gap caused by cash flow issues. Providing your invoices are still within the credit terms, you can sell them to the provider for an agreed price. This removes the headache of late-paying customers.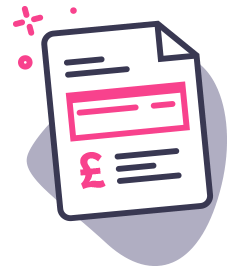 1 Submit your invoices
Submit your invoices to the finance provider as soon as they are raised.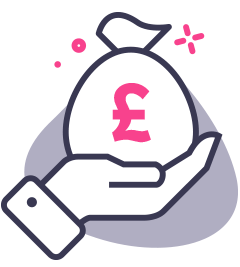 2 Receive up to 95% upfront
Get up to 95% of the invoice value upfront, minus any agreed fees in just 24 hours.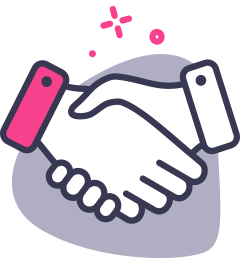 3 Customer pays and final balance released
Depending on the service you choose, the collections process is done by the finance provider or confidentially kept in-house. Once the customer makes the payment, the remaining balance will be released to you.
Why you should choose SME Invoice Finance
We can offer you professional advice and guidance, helping you locate the best funding solution for your creative agency. We have worked with small and large businesses up and down the country, just look at this outstanding review from our customer Desique Creative:
"We needed to release funds to invest in a large scale internal project. One of our largest clients who although passed a large volume of work our way on a month to month basis was incredibly slow on paying their invoices. By utilising invoice finance for our creative agency, we released £15k in less than 12 hours."
Think of the possibilities you could unlock for your business if you could invest more time and resources into large-scale projects. The pitching process alone demands time and resources for an uncertain monetary outcome. So whether you need healthy cash flow to simply carry on, as usual, invest time and resources into new projects without niggling financial worries, or you want to have money for those 'just in case' periods - don't delay.
Our process is quick, straightforward and, best of all, it's stress-free. Get a quick decision with no obligation.
Apply Now
Quick Decision with No Obligation